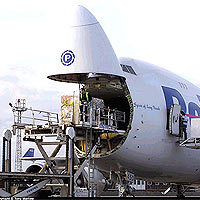 Air Freight
This is the quickest form of transporting your cargo. ESPA Cargo provides airfreight service with national carriers of every country. The majority of our commercial freight is time sensitive and always travels via airfreight.
Airfreight is handled manually more often than a closed ocean container. Therefore we always take extra precautions. All cargo, loose cartons or pallets are tightly strapped with 1/2″ steel bands and then sealed as one piece which is then wrapped and secured with 18 gauge black stretch film prior to shipping. This ensures everything will travel together and minimizes manual handling of loose cartons.
We will prepare your documentation, file the customs export declaration, and assure your shipment is booked on the scheduled flight. Prior to shipping your freight, we send the consignee via fax a departure notice with copies of all pertinent documentation. The consignee can then expedite all customs procedures prior to the shipment(s) arrival at destination. This allows a smooth transition upon arrival and eliminates unnecessary storage fees which many country facilities take advantage of.
Our staff obtains daily forwarding confirmations from the airlines to assure your shipment traveled as booked. We will be in constant communication with all parties involved until you safely receive your shipment.
Our rates to all points of Europe and Latin America are the most competitive in the market for the quality of service that we are committed to offer. This allows our customers to feel confident and content with our services while taking advantage of our quality and reliability. These are two very important key elements, which we base our service on, at the most economical cost to our customers.